Stan Shaffer
You Should Have Been With Me
October 5 – 28, 2017
Reception: October 5, 6-8 pm
Ever Gold [Projects] is pleased to present You Should Have Been With Me, a solo exhibition of work by the late Stan Shaffer curated by Justin Shaffer, in conjunction with Allie Shaffer and the estate of Stan Shaffer. 
Stan Shaffer (1944–2010) was a contemporary American fashion photographer who spent the last four decades capturing his passion for life and sexuality.
"Stan is a man who loves women. His camera captured their sensuality and style at a time when women were celebrating their freedom. Whether photographing Janice or Angelica, he got their moment and lived the dream with them." – Ruth Ansel, Art Director (Harper's Bazaar, The New York Times Magazine, House & Garden, Vanity Fair, and Vogue)
Shaffer began his career as a professional photographer in New York as an assistant in 1964. He opened his first studio in New York in 1967. His love of black and white printing and images never left him. He contributed to many major fashion magazines in the U.S. and Europe, including covers for Vogue, Elle, and The New York Times's Fashions of the Times. He photographed some of the most beautiful and famous people in the world, producing unforgettable photographs of Andy Warhol, Grace Jones, Janice Dickinson, Halston, Gloria Vanderbilt, Brooke Shields, Patti Hansen, Uma Thurman, David Kennedy, Pete Townsend, and Naomi Sims, among countless others.
His photographs are in public and private collections throughout the U.S. and internationally. His work has been shown in the Metropolitan Museum of Art for the show American Woman: Fashioning a National Identity, and featured in the documentary film about Halston titled Ultrasuede. His industry awards include the Art Directors Club of New York Annual Award, the Society of Publication Designers's Award of Excellence, and the CINE Golden Eagle as a Director/Cinematographer for Best Short Film by an amateur filmmaker. You Should Have Been With Me, his first book and ultimately his swan song, was published by Hendrik teNeues in the fall of 2010. The book chronicles his love of photography and life, and records the fashion and pop culture of the '60s, '70s, and '80s.
Special thanks to Darren Smith for his tireless work on the production of this exhibition.


Captions and Commentary below by Justin and Allie Shaffer, Stan Shaffer, and friends.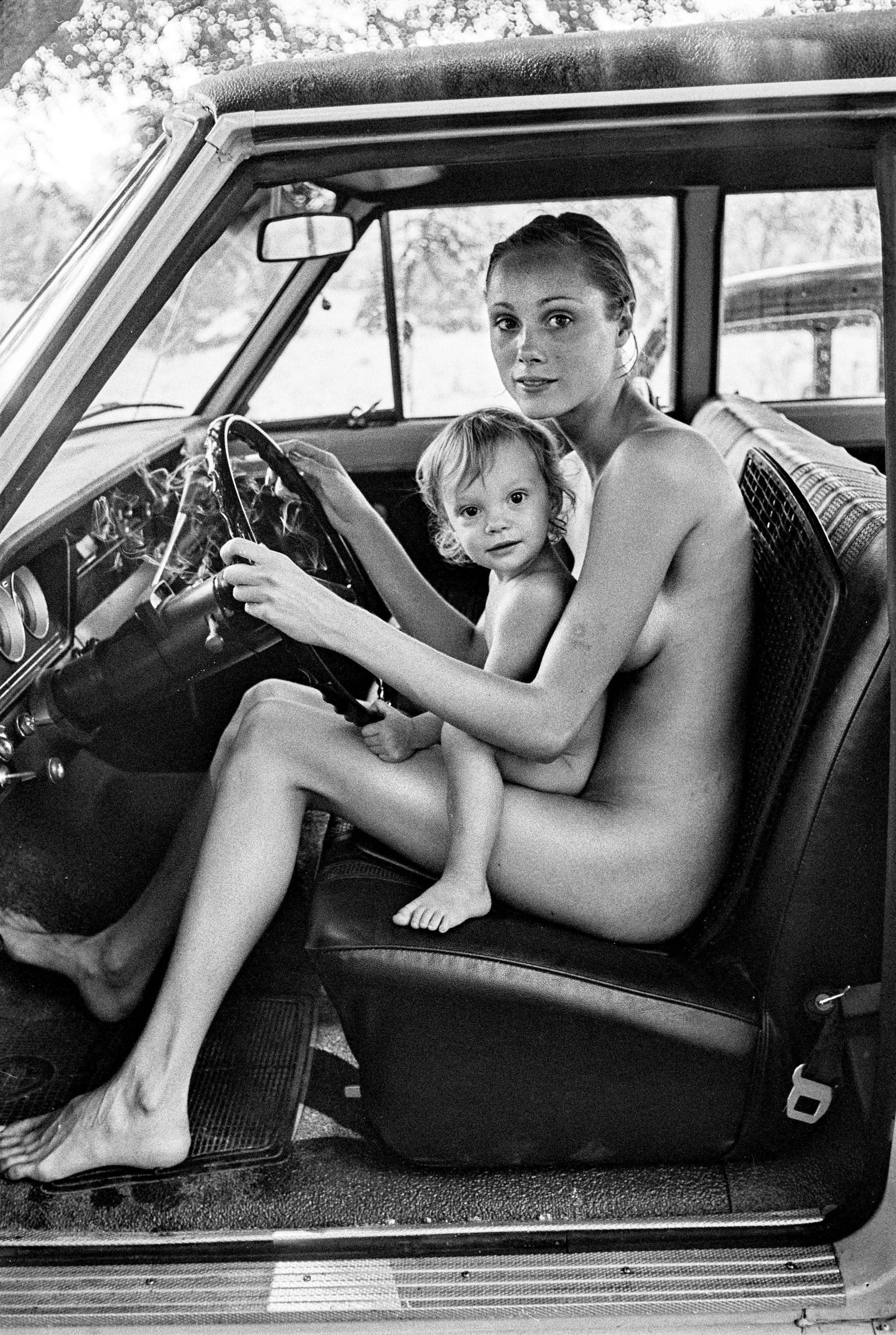 Stan Shaffer, Jane Hitchcock with her daughter Serena, summer of 1973.
Digital archival photograph, 60 x 40 inches, edition of 4 (3AP).
Also available at 34 x 22.6 inches, edition of 4 (3AP).

Jane was a supermodel in the '70s, and worked a lot with Stan. She was one of Wilhelmina's first models. This was shot on a casual weekend on their friend Tricia's farm near Woodstock. Jane was 19 and Serena was just about 1 at the time. Stan asked her to take some pictures and they found this old car on the farm to work with.
Stan Shaffer: "We were away for the weekend at the country home of a friend of ours… her nails were freshly done for an Elizabeth Arden campaign that we were doing for the esteemed Mr. Henry Wolf. Her baby looks quite happy breathing second hand smoke and holding a pack of rolling papers. We of course didn't know any better. We were happy, we were high, and we were all good friends… good times… good times…"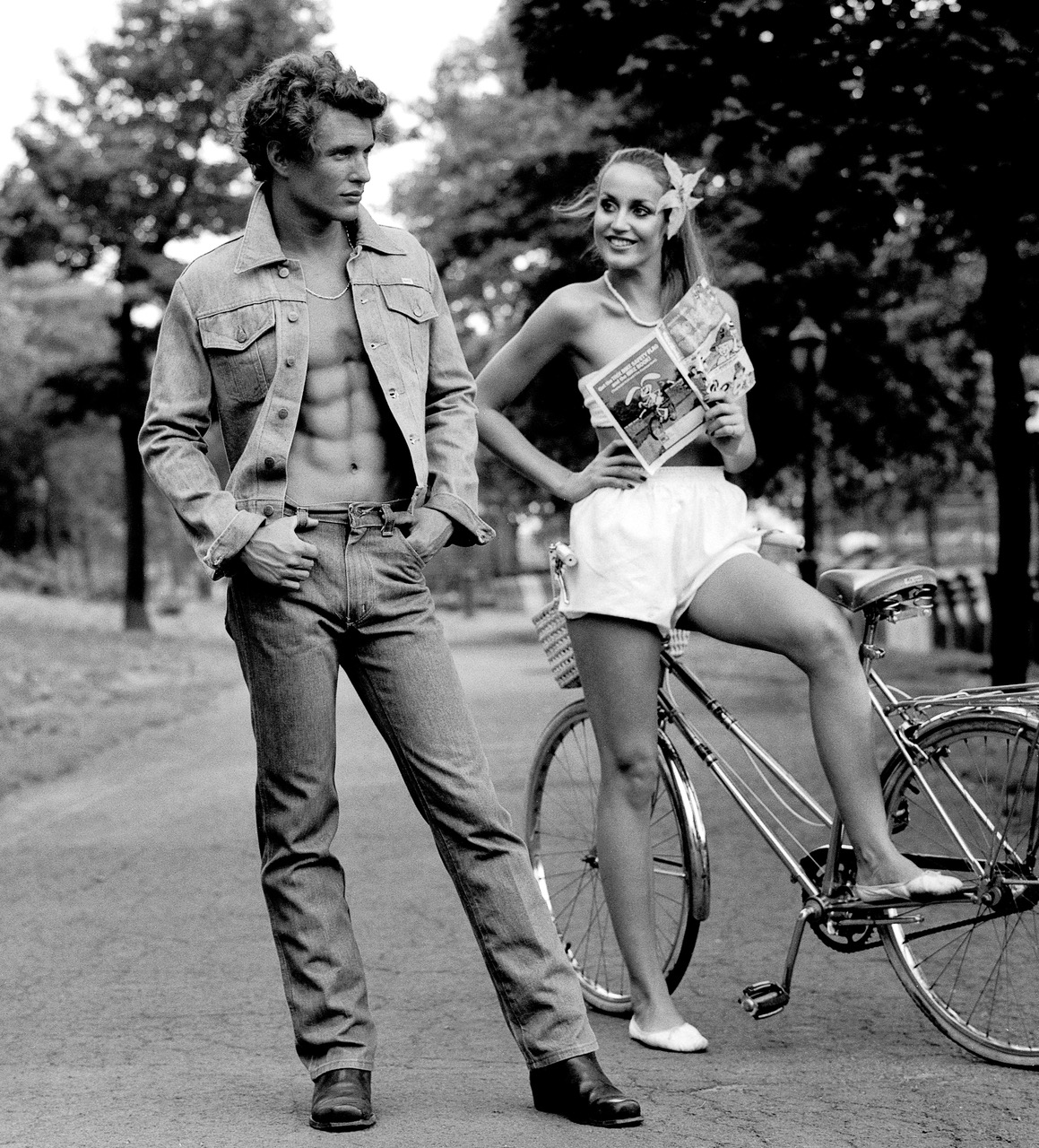 Tom Berenger and Jerry Hall in Central Park, New York, 1975.
Digital archival photograph, 34 x 34 inches, edition of 4 (3AP).
Also available at 18 x 18 inches, edition of 4 (3AP).

Dad had the pleasure of both discovering and working with a number of models and celebrities very early in their careers. These connections and relationships came from a variety of places—of particular note his unique relationship with Eileen Ford of the Ford Modeling Agency. They started their careers together and Eileen talks about this in the quote below from her foreword for You Should Have Been With Me. Dad was particularly close with Jerry Hall and Patti Hansen both. These relationships translated into childhood memories for me involving time spent in Mustique, and many other stories of adventures with the Rolling Stones, including introducing Keith and Patti as the story goes. Tom, having grown up in Queens, was just starting his modeling career here. Justin: Oh and by the way, I didn't retouch those abs.
Stan Shaffer: "Two very sexy young people. If they only knew what was to come for them. These are very early photos of them and possibly the only one in existence of them together… It was all instinct for me."
Eileen Ford: "Stan Shaffer became a wonderful friend to my husband and me over 40 years ago. We both started our careers, Stan as a photographer assistant, we as what still remains, The Ford Model Agency. In those days in order to launch a model's career we needed photographs to put in a girl's scrapbook. It was almost impossible to get help from established photographers. One day after nobody would help me, I asked a young assistant that I knew only on the telephone would he, could he help. He very kindly took the needed pictures and so began a friendship that has endured for so long. Stan Shaffer had an extraordinary vision, not just of fashion but that of a journalist observing and recording with his camera the changing scene of the 60's, 70's and 80's. With "You Should Have Been With Me" you will find a photographic reminder of what life was like during those years. You will find that this book is not just a work of art but a history of a world so different from today."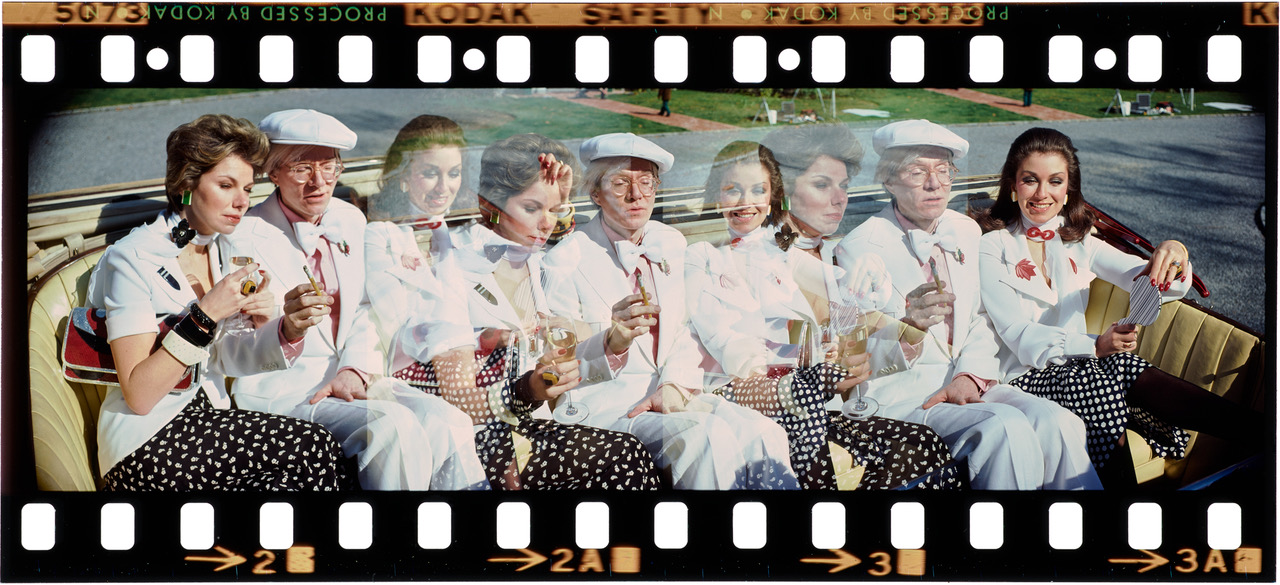 Andy Warhol as the Great Gatsby, with Sharon Hammond and Maureen McCluskey, East Egg, New York, 1974
Digital archival photograph, 40 x 87.5 inches, edition of 5 (3AP).
Please inquire for additional sizes.

Dad and Andy were friends throughout the '70s in New York. They ran in similar circles socially, collaborated creatively from time to time, and photographed each other. Their friendship was the basis for this image, which is the most unique and certainly the most rare in his archives. Dad was working on a shoot for New York Magazine called "New York is an Art Deco City." He asked Andy if they could do a shoot to support this with him dressed up as the Great Gatsby. Andy agreed to it despite it being outside of the context of how his very controlled image was being presented publicly at the time. They went out to "East Egg" to the family home of mutual friends and sisters Sharon Hammond and Maureen McCluskey to shoot this. This accidental triptych, which occurred rarely when the camera would fail to properly advance the film, is breathtaking as a negative and we decided to show it in its unfettered original form at size. You'll never see another image of Andy like this. Because of Dad's mastery of the exposure itself the combined image ends up feeling really unique and alive. We wish we were with them that day.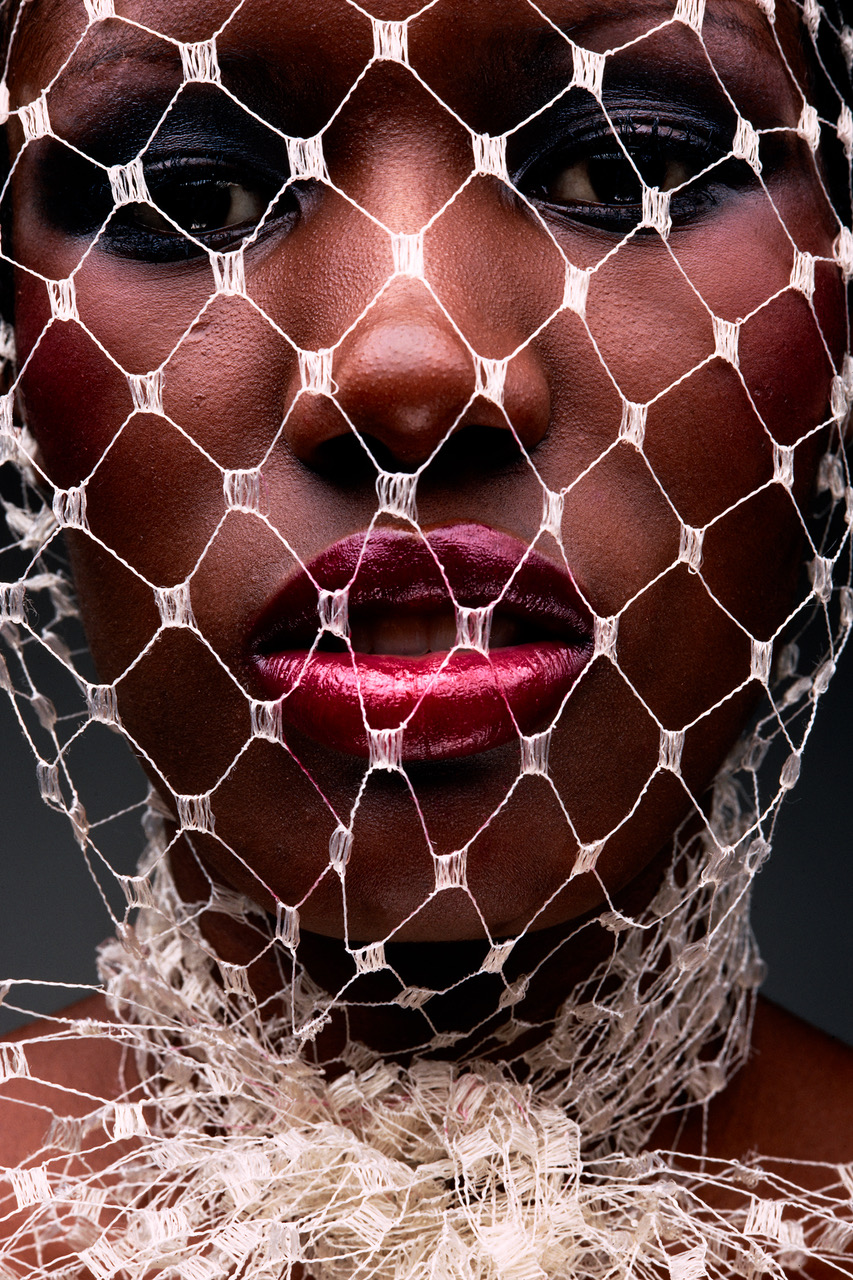 Grace Jones, New York, 1971
Digital archival photograph, 51 x 34 inches, edition of 4 (3AP).
Also available at 34 x 22.6 inches, edition of 4 (3AP).

Grace pops up in Dad's life in the '70s repeatedly. This photo is an early shot of her at the start of her modeling career and before her modern identity was well formed. Later on in the Studio 54 era, Dad was spending a lot of time in that scene and in a funny turn of events, my godmother Reute Butler ended up in a relationship with him and her at the same time for a while.
Stan Shaffer: "Grace had just arrived in New York and this was a very early photo, before her rise to fame. This photo was very late '60s or very early '70s, before her remake into what you know today. She was a great friend and we stayed close for many years."
Reute Butler: "After her concerts, we would take her car and driver around town and dance all night at different clubs until dawn, just the two of us. I do remember everyone either stopped dead to look at us or were trying to pretend they weren't, which we knew and thoroughly enjoyed with no discussion. It was our due. We were stars. We must have been quite a sight really, tall, she with a flat top and so black. Me with long blond hair and so white. I knew full well what people said. Couldn't have cared less. Stan was totally cool about these forays. Sometimes the three of us went out together. He knew I was having fun and as long as I came home to him safe he was happy. He was generous that way."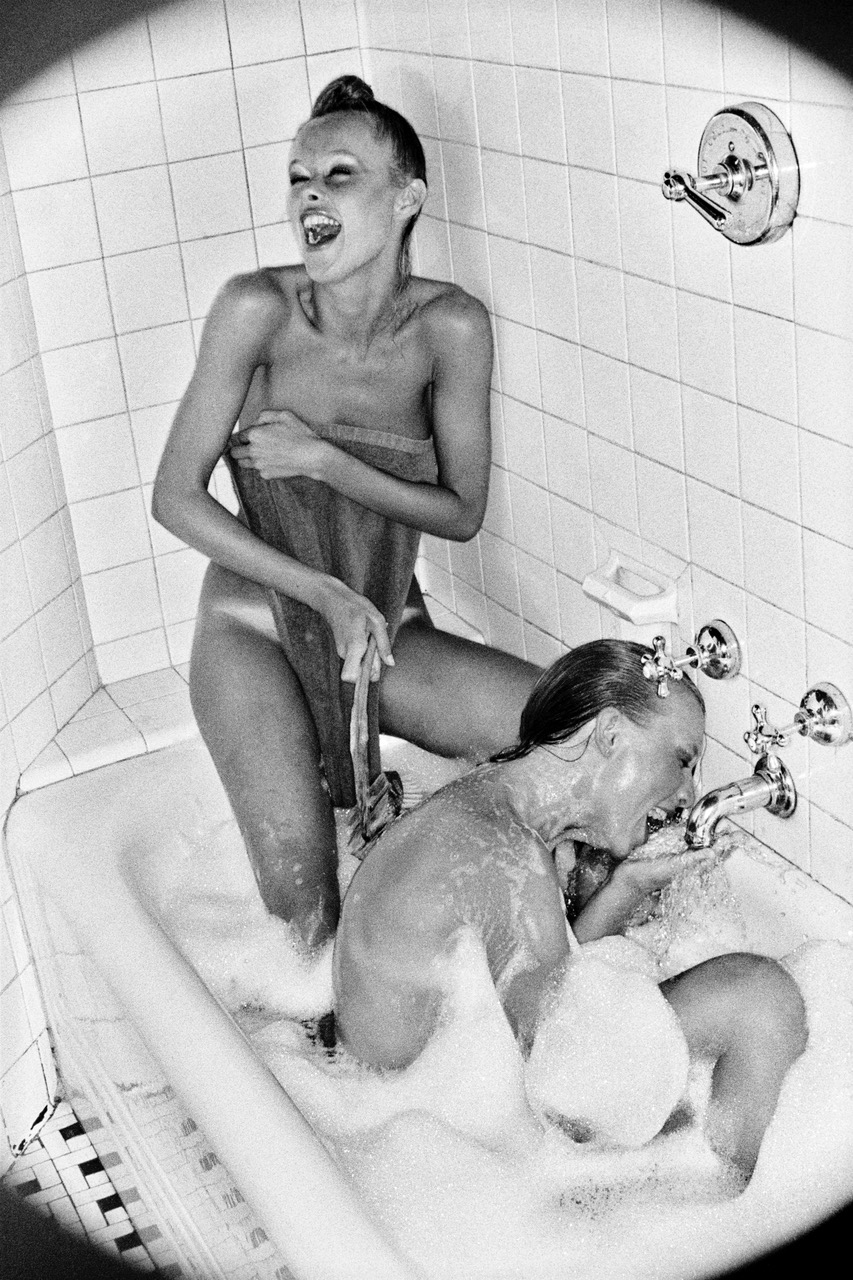 Blackburn twins, our apartment at the Apthorp, New York, 1976
Digital archival photograph, 15 x 10 inches, edition of 4 (3AP).
Also available at 34 x 22.6 inches, edition of 4 (3AP).
Complete set of 6 Blackburn twins photographs also available: please inquire.

This series of the Blackburn twins are the reason that Dad, through his dear friend James Hammond, met Alexander Liberman and ultimately got the opportunity to start shooting for American Vogue. Alexander was the Editorial Director of Condé Nast and perhaps the most important person to know and work with in fashion at the time. Amusingly there are two stories, one Dad's and one James' as to how the Blackburn twins came to the apartment that evening. Dad always told me that he'd met them on the bus and invited them back to the apartment to take some photos together. James, on the other hand, who was quite a character himself, claims that they'd crashed a party of his at his home and he had called Dad and said that they were too crazy even for him and to get them out of there! In any case, these photographs are a great look into how he worked and played. Personally, we enjoy them even more knowing that that bathtub was in our bathroom when we were growing up some number of years later.
James Hammond from his foreword for You Should Have Been With Me: The late Alexander Liberman, the Editorial Director of Conde Nast declared, "Stan Shaffer is a real artist, he's an attractive fellow who understands the sexuality of women and his exciting photographs show it."


Captions and Commentary by Justin and Allie Shaffer, Stan Shaffer, and friends.