Grinding
September 9 – October 21, 2017
Reception: September 9, 5-8pm
Takis
Kazuo Shiraga
Tom Sachs
Sterling Ruby
Kour Pour
Oscar Murillo
Petra Cortright
Petra Collins
Mario Ayala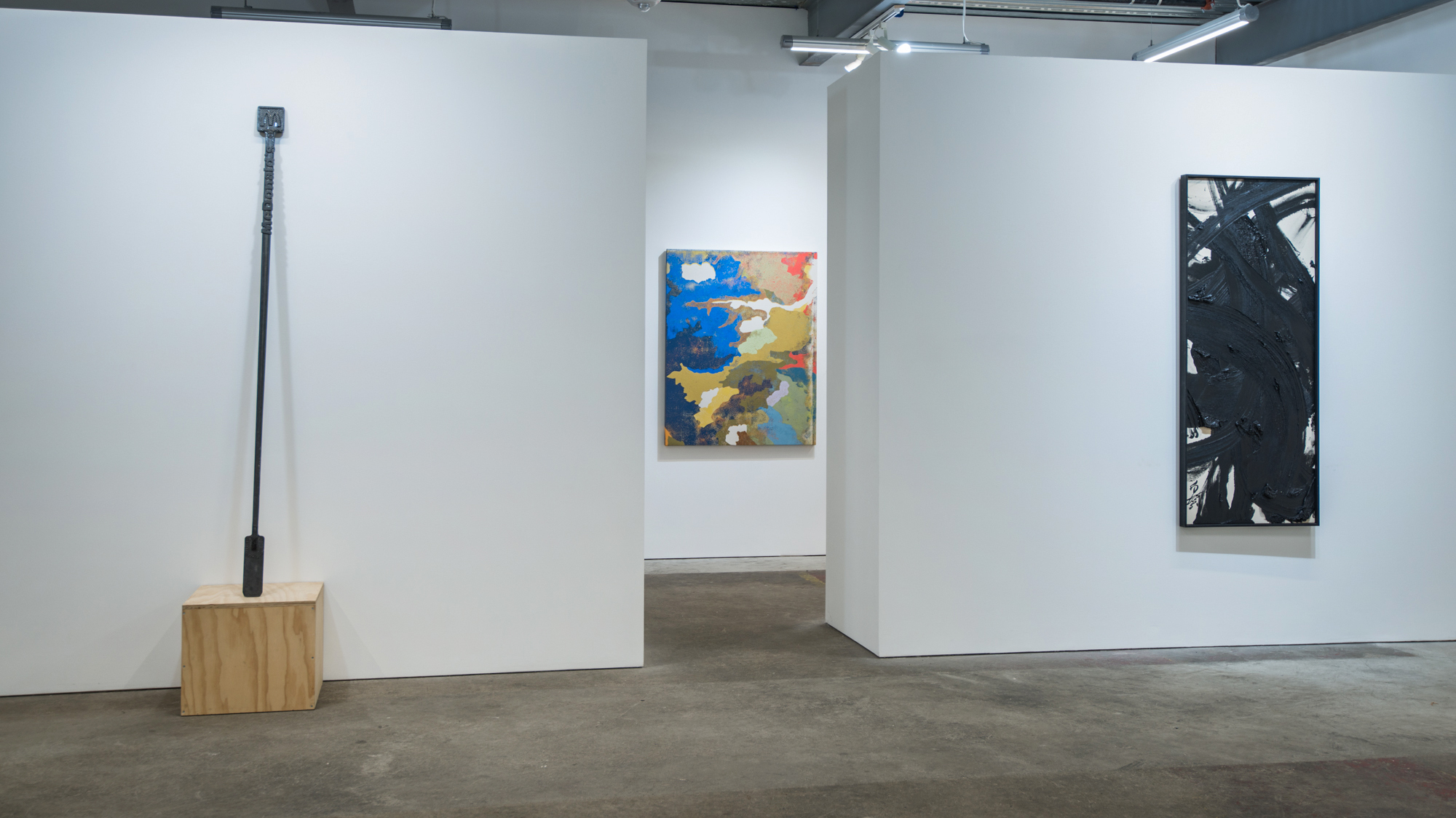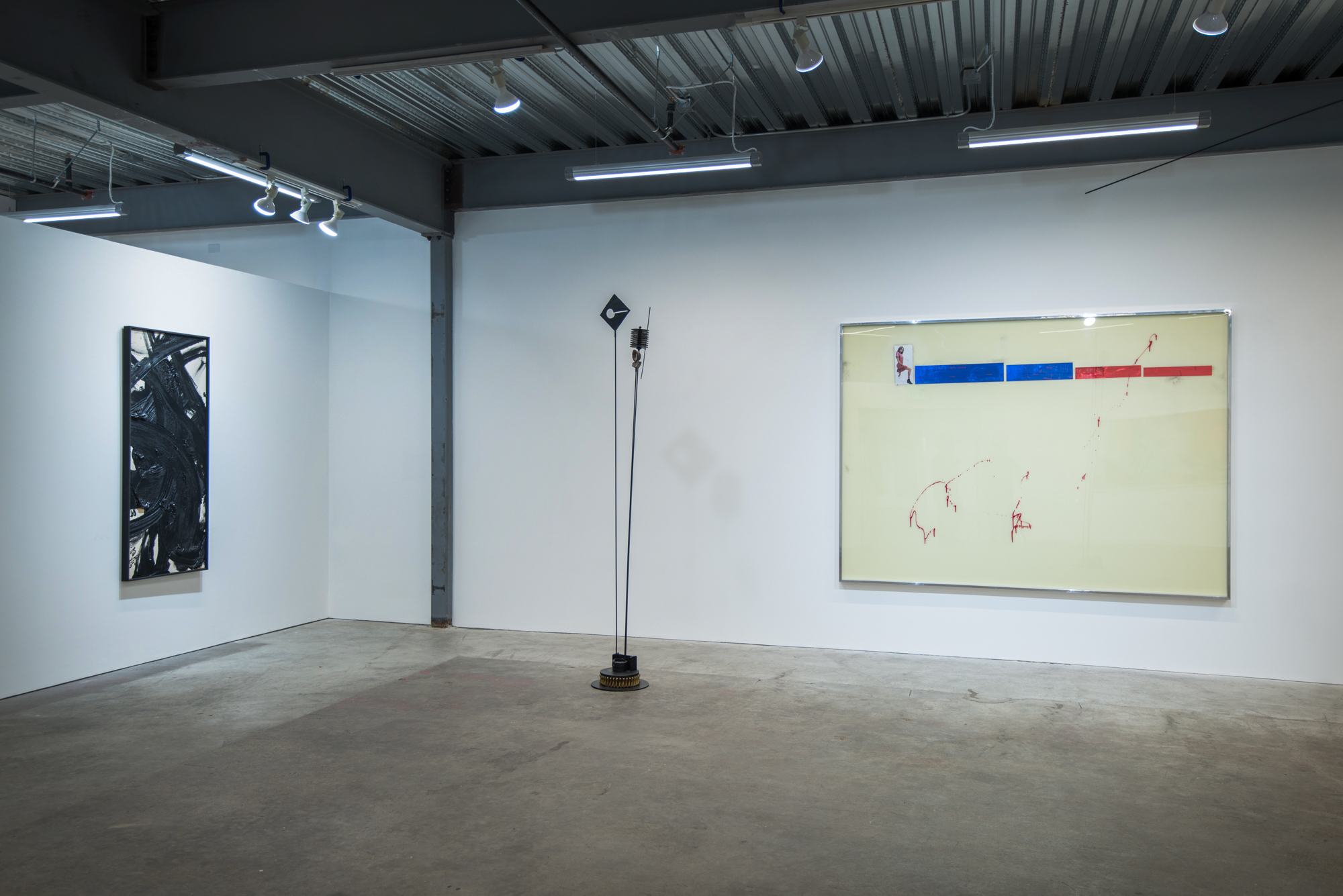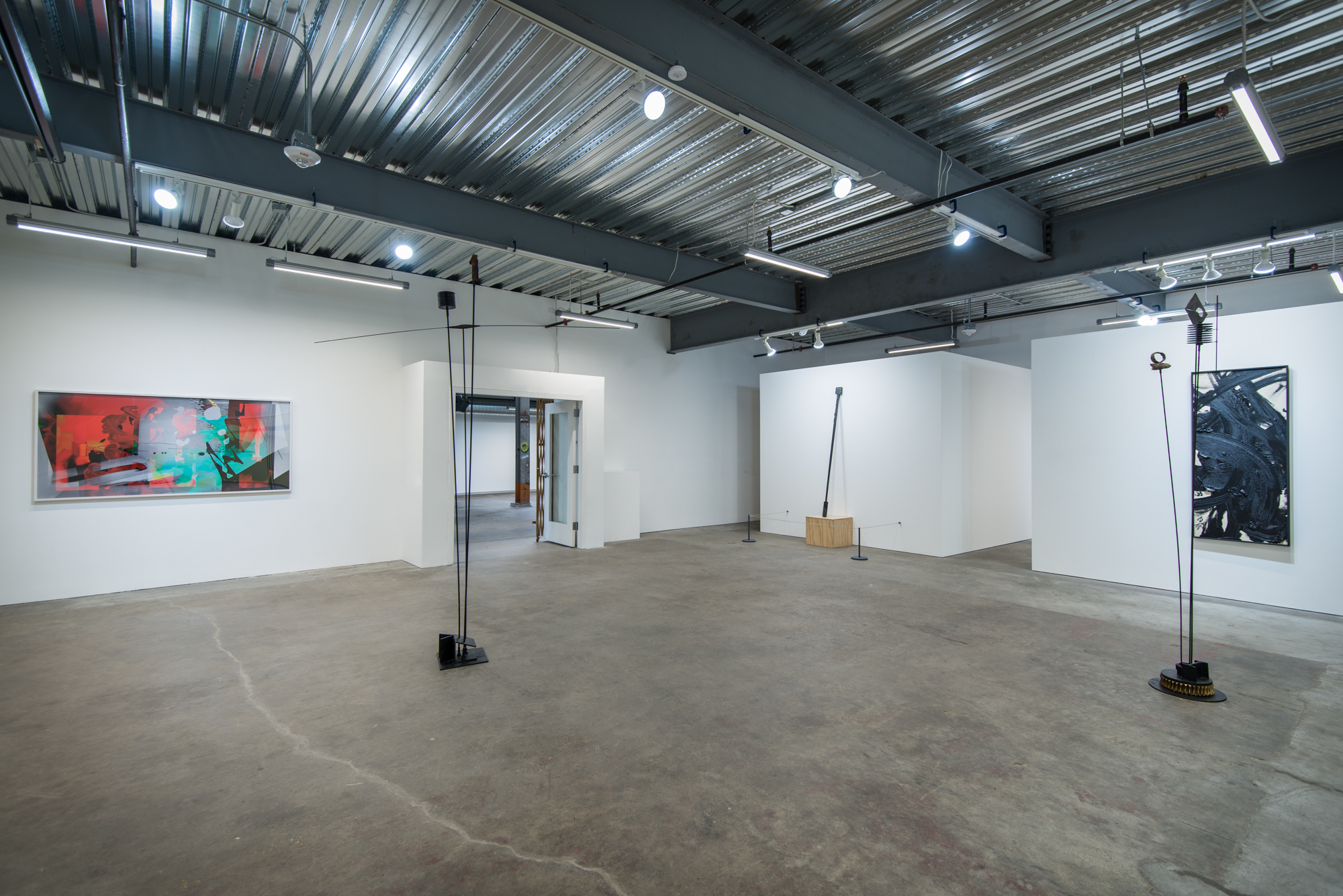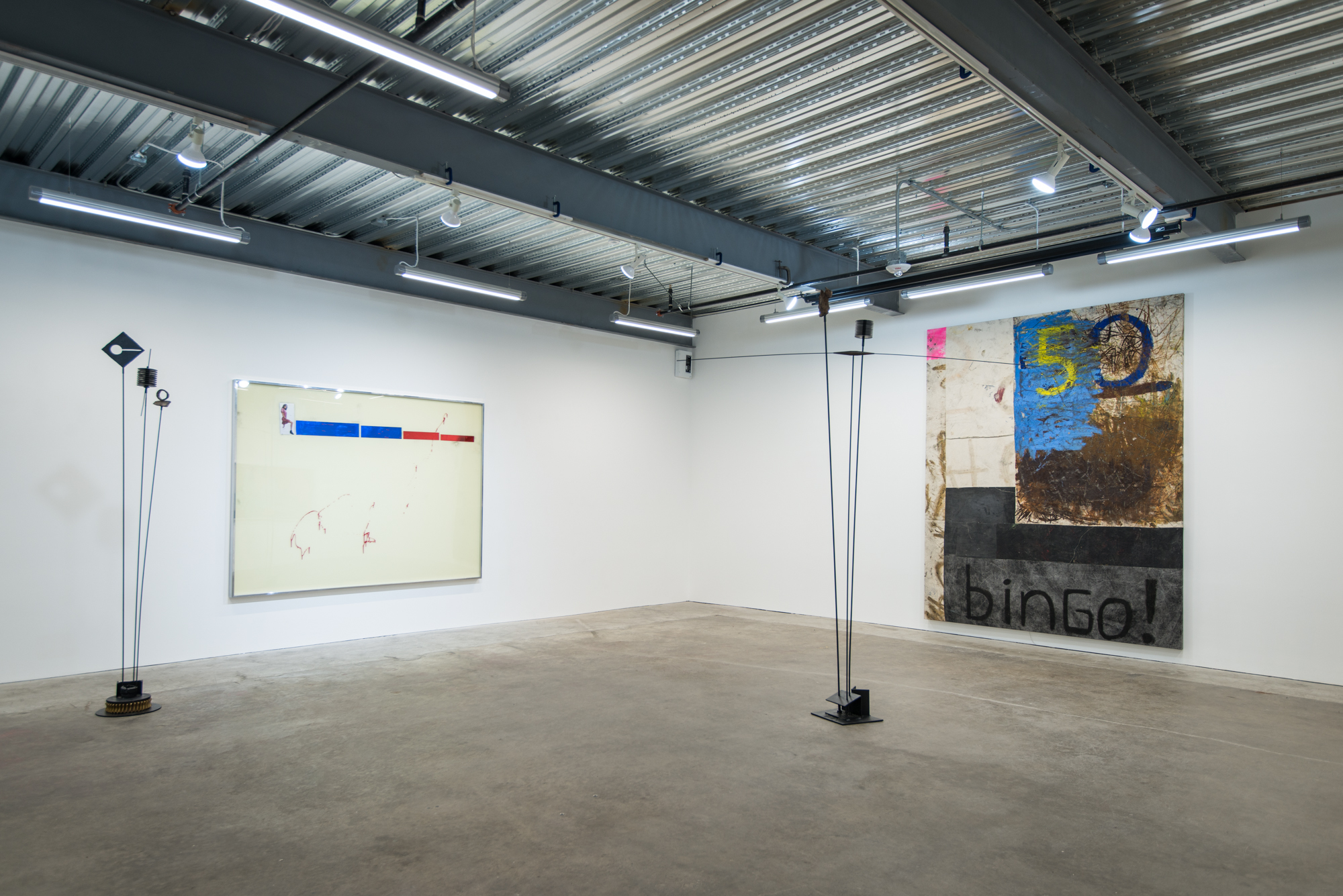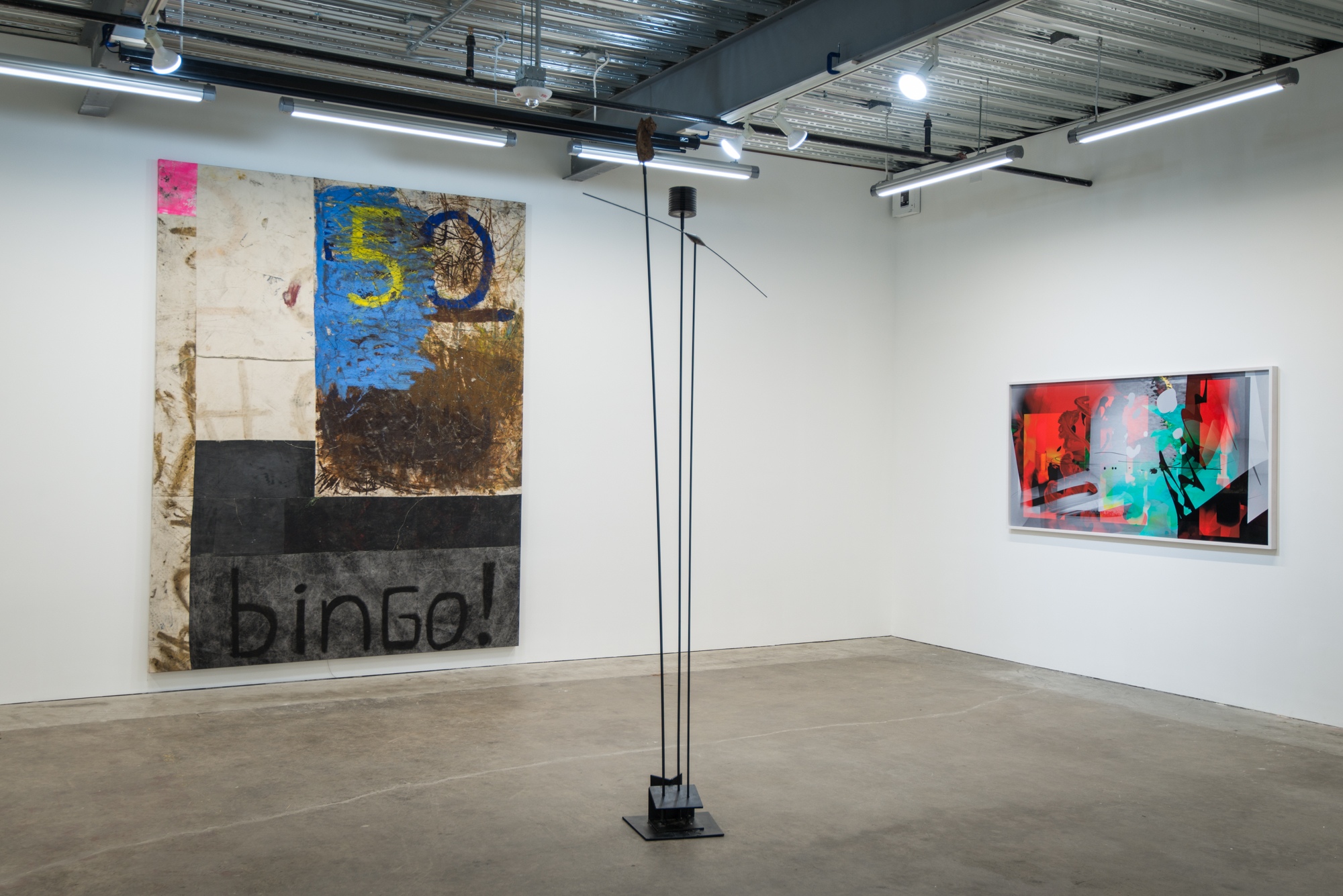 Ever Gold [Projects] is pleased to announce Grinding, a group exhibition featuring work by Mario Ayala, Petra Collins, Petra Cortright, Oscar Murillo, Kour Pour, Sterling Ruby, Tom Sachs, Kazuo Shiraga, and Takis. Grinding will be on view in our main exhibition space from September 9th through October 21st, 2017.
Takis is among the leading kinetic artists, having created a pioneering body of sculptures, performances, and sound pieces focused on electromagnetism, a force with which he has been fascinated since the beginning of his career. Takis settled in Paris in 1954, and crafted his first "Signal" sculpture the following year. His best-known series, the "Signals" are composed of delicate, moving rods springing from a solid base and topped with various industrial and technological fragments. Referencing natural and manmade antennae, they seem to commune with their surroundings. Magnets are the animating center of his works. He has harnessed their pull to suspend human beings and objects in space. For Takis, electromagnetism is a unifying force, which runs through all bodies, and which he celebrates in art that, in his words, "binds together in space, objects, metals, roaming particles of the cosmos."

Kazuo Shiraga was born in 1924 in Amagasaki, Japan. Shiraga attended the Kyoto Municipal School of Painting and the City Art Centre of Osaka, familiarizing himself with both traditional Japanese painting and Western oil painting. Shiraga cofounded the experimental Zero Society (Zero-kai) in 1952 with Saburō Murakami, Atsuko Tanaka, and Akira Kanayama. He began a series of signature works in 1954, for which he suspended himself on a rope above canvas, manipulating the paint with his feet. In 1955, he joined the Gutai collective, founded the previous year by Shozo Shimamoto and Jiro Yoshihara. That year, he performed Challenging Mud, one of his best known works, as well as Red Logs (Please Come In). Work by Shiraga and other members of the Gutai group was exhibited at Martha Jackson Gallery in New York in 1958, and was generally understood as being derivative of Abstract Expressionism, in a misreading the group would strive to clarify. Japan's Expo '70 hosted the last major public presentation of Gutai work before the collective was dissolved in 1972. Shiraga became a Buddhist monk in 1971, training at the Tendai-sect temple Enryakuji on Mount Hiei; he would resume painting the following year after the disbanding of Gutai. In 1998, Paul Schimmel organized Out of Actions: Between Performance and the Object, 1949-1979 at the Museum of Contemporary Art, Los Angeles; Out of Actions was arguably the first major museum exhibition exploring the complex dynamics of postwar artwork involving action and performance, and work by the Gutai group was displayed prominently at the entrance. Schimmel is also responsible for organizing Destroy the Picture: Painting the Void, 1949-1962, an exhibition at the Museum of Contemporary Art, Los Angeles (2012-13) which traveled to the Museum of Contemporary Art Chicago (2013), and included work by Shiraga and other artists affiliated with Gutai. In 2013, the Solomon R. Guggenheim Museum presented Gutai: Splendid Playground, a retrospective of the Gutai Art Association, including two generations of Gutai production and featuring work by Shiraga. Also in 2013, the San Francisco Art Institute presented Experimental Exhibition of Modern Art to Challenge the Mid-Winter Burning Sun: Gutai Historical Survey and Contemporary Response, the first West Coast survey exhibition of Gutai. In 2015, the Dallas Museum of Art presented Between Action and the Unknown: The Art of Kazuo Shiraga and Sadamasa Motonaga, pairing Shiraga with Motonaga, another experimental painter from the Gutai group.

Tom Sachs (b. 1966, New York, NY) is a sculptor, probably best known for his elaborate recreations of various Modern icons, all of them masterpieces of engineering and design of one kind or another. In an early show he made Knoll office furniture out of phone books and duct tape; later, he recreated Le Corbusier's 1952 Unité d'Habitation using only foamcore and a glue gun. Other projects have included his versions of various Cold War masterpieces, like the Apollo 11 Lunar Excursion Module, and the bridge of the battleship USS Enterprise. Recent exhibitions include Space Program: Europa at Yerba Buena Center for the Arts (San Francisco); Nuggets at Jeffrey Deitch (New York); Satan Ceramics at Ever Gold Gallery (San Francisco); Tom Sachs: Boombox Retrospective 1999-2016 at the Brooklyn Museum; Nuggets at Lora Reynolds Gallery (Austin); Tom Sachs: Boombox Retrospective 1999 – 2015 at The Contemporary Austin; Chawan at Salon 94 (New York); Satan Ceramics at Salon 94 Freemans; and American Handmade Paintings at Galerie Thaddaeus Ropac (Paris). Sachs lives and works in New York.

Sterling Ruby was born in 1972 on Bitburg Air Base in Bitburg, Germany. He graduated in 1996 from the Pennsylvania School of Art and Design, Lancaster. Ruby received his B.F.A. in 2002 from the School of the Art Institute of Chicago, Illinois, and his M.F.A. in 2005 from the Art Center College of Design, Pasadena. Ruby is quite versatile in regards to his aesthetic strategies and works in a variety of media—glossy and color-saturated poured polyurethane sculptures, drawings, collages, richly glazed ceramics, graffiti-inspired spray paintings, and video—maintaining a constant tension within a multitude of elements. His work engages with issues related to the violence and pressures within society, autobiography, and art history. Throughout, he vacillates between fluid and static, minimalist and expressionist, pristine and dirty. Of the diverse forms that constitute his oeuvre, the paintings are the most formally abstract. Ruby has long been influenced by the sociological implications of urban demarcation, vandalism, and the power struggles of gang graffiti. In his paintings, acts of defacement are transformed into a painterly sublime. Ruby lives and works in Los Angeles.

Kour Pour (b. 1987, Exeter, England) lives and works in Los Angeles. He graduated from Otis College of Art and Design in 2010. Recent solo and two person exhibitions include Returnee at The Club (Tokyo, 2019); Manzareh/Keshiki/Landscape at Ever Gold [Projects] (San Francisco, 2019); Cut and Paste (with Yoshitoshi) at Christie's (Los Angeles, 2019); Abrash at Shane Campbell Gallery (Chicago, 2018); Polypainting at Pearl Lam Galleries (Hong Kong, 2018); Polypainting at GNYP Gallery (Berlin, 2018) Earthquakes And The Mid Winter Burning Sun (with Kazuo Shiraga) at Ever Gold [Projects] (San Francisco, 2017); Labyrinth(s) at Pearl Lam Galleries (Hong Kong, 2016); Onnagata at GNYP Gallery, (Berlin, 2016); Onnagata at Feuer/Mesler (New York, 2016); Samsara at Depart Foundation (Los Angeles, 2015); Ozymandias at Ellis King (Dublin, Ireland, 2014); and Kour Pour at UNTITLED (New York, NY, 2014).

Selected group exhibitions include Gold Standard: Ten Year Anniversary Exhibition at Ever Gold [Projects] (San Francisco, 2019); Decoration Never Dies, Anyway at Tokyo Metropolitan Teien Museum (Tokyo, 2017); Grinding at Ever Gold [Projects] (San Francisco, 2017); Labyrinth(s) at Pearl Lam Galleries (Hong Kong, 2016); In The Making at Roberts & Tilton (Los Angeles, 2012).

Pour was featured on the Forbes 30 Under 30: Art And Style list in 2015 and 2017. His work has been written about in the New York Times, Bloomberg, The Brooklyn Rail, Forbes, W Magazine, The San Francisco Chronicle, Canvas Magazine, SFAQ Magazine, The Japan Times, Tokyo Weekender, Metropolis, Widewalls, and SF Weekly.

A solo exhibition at the Tehran Museum of Contemporary Art (Tehran, 2022) is forthcoming.

Oscar Murillo is an artist living and working in London. Born in Colombia, Murillo earned his B.F.A. in 2007 from the University of Westminster, London, followed by his M.F.A. in 2012 from the Royal College of Art, London. His large-scale paintings imply action, performance, and chaos, but are in fact methodically composed of rough-hewn, stitched canvases that often incorporate fragments of text as well as studio debris such as dirt and dust. His paintings, video works, and performances are tied to a notion of community stemming from the artist's cross-cultural ties to diverse cities and places in which he travels and works. Murillo's works and projects have been the subject of solo exhibitions at prominent institutions worldwide. Most recently, presentations were held in 2017 at the Yarat Contemporary Art Centre in Baku, Azerbaijan and in 2015 at the Museo de Arte de la Universidad Nacional de Colombia, Bogotá; Centro Cultural Daoíz y Velarde, Madrid (part of ArcoColombia 2015); and Artpace, San Antonio, Texas. Also in 2015, as part of Performa 15 in New York, Murillo presented Lucky dip, a series of performances and installations that took place over the course of one week at the Alexander Hamilton U.S. Custom House, an important historical site in downtown Manhattan. Opening in September 2017 at Haus der Kunst in Munich will be a solo exhibition of Murillo's work. A comprehensive monograph published by the museum in association with David Zwirner Books with a foreword by Okwui Enwezor, contributions by Emma Enderby and Anna Schneider, and an interview with the artist by Maria Belen Saez de Ibarra will accompany the show.

Petra Cortright (b. 1986, Santa Barbara, CA) is a digital painter producing work in both physical and digital space. An early series of webcam self-portrait videos using filters and effects long before smartphones made them ubiquitous established Cortright as a key figure in the post-internet art movement. Cortright produces paintings, sculptures, and video installations alongside natively digital work. To produce paintings, Cortright builds a heavily layered digital landscape composed from a mixture of brushstrokes and found images, which she refers to as a "mother file." Using this file, she produces a series of works, selecting decisive moments from this invented space to translate into three dimensions using various print processes and substrates. Cortright studied Fine Arts at Parsons School of Design, The New School (New York, 2008) and California College of the Arts (San Francisco, 2004). Cortright has had solo exhibitions at Team Gallery (New York, 2020); Galeria Duarte Sequeira (Braga, Portugal, 2019); 1301PE (Los Angeles, 2019); Ever Gold [Projects] (San Francisco, 2016 and 2018); Société (Berlin, 2014, 2016, and 2018); Nahmad Projects (London, 2018); UTA Artist Space (Los Angeles, 2018); Foxy Production (New York, 2015 and 2017); and Depart Foundation (Los Angeles, 2015). Cortright has been included in group exhibitions at the Walker Art Center (Minneapolis, 2019); MCA Chicago (2018); Ural Industrial Biennial (Ekaterinberg, Russia, 2017); Whitechapel Gallery (London, 2016); MALBA (Buenos Aires, 2015); Frieze Film at Frieze London (2013), the 12th Venice Biennale de Lyon, France (2013); and the Venice Venice Biennale (2009). Her works are in the permanent collections of the Museum of Modern Art (New York); the Péréz Museum (Miami), the Los Angeles County Museum of Art, the Hammer Museum (Los Angeles), the Moderna Museet (Stockholm), the Stedelijk Museum (Breda and Amsterdam, Netherlands), the Museum of Contemporary Art Chicago, Kadist Foundation (San Francisco), BAMPFA (Berkeley), the San Jose Museum of Art, MOCA Los Angeles, and Rhizome's Net Art Anthology (New York). Cortright lives and works in Los Angeles.

Petra Collins (b. 1992, Toronto, Canada) is an artist and curator living in New York. Shooting since the age of 15, her images are fueled by self-discovery and contemporary femininity which explore the complex intersection of life as a young woman online and off. Collins's images offer an unflinching honesty, exploring the privacies and publicities of growing up as a woman at a moment when female bodies are ubiquitously hyper-mediated by Photoshop and social media. Collins has also curated a handful of shows: Gynolandscape and PussyPat (New York, NY); Strange Magic (Los Angeles); Literally Bye at Art Basel Miami Beach; and Comforter at SFAQ [Project] Space (San Francisco). She has also given lectures at educational and art institutions such as York University and The Art Gallery of Ontario. Her work has been featured in publications including I.D., Dazed & Confused, NY Magazine, The New York Times, Teen Vogue, L'Uomo Vogue, Vogue ME China, Elle, Glamour, Jalouse, Vanity Fair, Purple, Interview, and Vice. In 2015 she released a short film series called Making Space about teen dancers, and curated a book called Babe published by Random House. Petra Collins: Coming of Age, the artist's first monograph, was published by Phaidon in October 2017.

Mario Ayala (b. 1991, Los Angeles, California) works primarily in painting but also in sculpture. Ayala graduated from The San Francisco Art Institute in 2014, where he received the Yale Norfolk fellowship in 2012. He was a participant at the Skowhegan School of Painting and Sculpture in 2014. Recent exhibitions include Shooby Doo Lang Doo Lang Dong at Stems Gallery, Brussels (solo, 2019); Give a Dog a Bad Name and Hang Him at Ever Gold [Projects], San Francisco (solo, 2019); Gold Standard at Ever Gold [Projects], San Francisco (2019); AUT Of Body at Loyal Gallery, Stockholm (solo, 2018); Sun Sprawl at Club Pro Los Angeles (2018); Pen Pal at Ever Gold [Projects], San Francisco (solo, 2017); Seasoned And Embarrassed Like A Wet Dog at SADE, Los Angeles (solo, 2017); Welcome To The Left Coast at The Luggage Store Gallery, San Francisco (2016); Summer Group Show at Hashimoto Contemporary, San Francisco (2016); The House Of Special Purpose at 99¢ Plus Gallery, Brooklyn (2016); Something Completely Different at City Limits, Oakland (2014); 5 Year Anniversary at Ever Gold Gallery, San Francisco (2014); Locals Only at RVSF, San Francisco (2014); and Give + Take at Adobe Books, San Francisco (2013). Ayala lives and works in Los Angeles. A solo exhibition at Marlborough, New York is forthcoming (Spring 2020). Ayala will also be featured in the 2020 edition of Made in L.A., the Hammer Museum's biennial exhibition.