RELOCATION TAROT
Mieke Marple and Christine Wang
January 9 – February 24, 2018
Opening Reception, Saturday, January 13, 5-8pm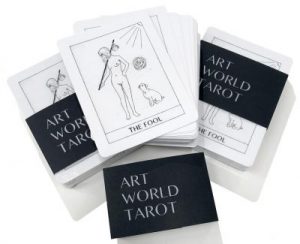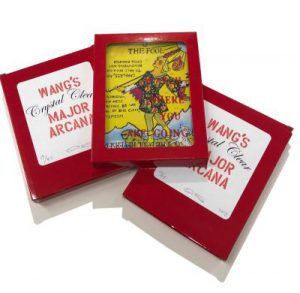 Tarot decks available by each artist here
Listen to a panel discussion about the exhibition, which happened at UNTITLED, SF, 2018.
"The origins of the Tarot are so veiled in the mists of time that it is only natural for myths and legends to surround it. Superstition, flights of fancy, and speculation have added their own patterns to the rich and colorful tapestry of Tarot lore and have only deepened its aura of magic and mystery. Cults have grown up around one or another historical theory, and sometimes their adherents have become fanatical in proclaiming the one and only "truth." But the better-informed investigators retain a certain amount of flexibility—even skepticism—and make no ironclad assertions.
The truest claim we can make is that the Tarot is a symbolic record of human experience.[1]"
The earliest tarot cards that survive today were used as playing cards by Italian nobles in the late 14th century. It wasn't until the 19th century, when French occultists connected tarot imagery back to ancient Egypt, that the cards became used for divination. The Rider Waite Smith deck, which debuted in 1909, was the first deck to be mass-produced in English and remains the most popular today. It was intended for fortune telling rather than gameplay and is the deck on which Wang and Marple base their cards. Wang's deck, Crystal Clear Tarot, defies the interpretative tradition of tarot through its inclusion of unambiguous and satirical text. Marple's deck, Art World Tarot, features a network of art world compatriots within a world of minimal, black and white symbolism. The exhibition at Ever Gold [Projects] will feature drawings and paintings from each artist's seventy-eight card deck.
Christine Wang
(b. 1985, Washington D.C.) is an artist living and working in San Francisco. Wang received her BFA from The Cooper Union for the Advancement of Art and Science in 2008 and her MFA in painting from UCLA in 2013. Wang also attended the Central Academy of Fine Arts, Mural Painting department for two semesters in 2006. Solo and two-person exhibitions include
#cryptomemes: women and Leo DiCaprio
at Ever Gold [Projects] (San Francisco, 2018);
Crypto Rich
at Galerie Nagel Draxler Kabinett (Berlin, 2018);
Relocation Tarot
at Ever Gold [Projects] (San Francisco, 2018);
Actions Speak Louder Than Fonts
at Galerie Nagel and Draxler (Berlin, 2017);
Gaseous Abstraction
with Kelley Lowe at the Hamad Bin Khalifa University Student Center Gallery;
Devotional Art for Your Home
at Night Gallery (Los Angeles, 2016); and
I Want That Bag
at Night Gallery (Los Angeles, 2014). Selected group exhibitions include
[On Approval] Beta Launch
at Ever Gold [Projects] (San Francisco, 2019);
The Privilege Show
at Control Room (Los Angeles, 2013),
Pushing Painting Paradigms
at Rutgers University (New Brunswick, 2012),
Shock and Awe
at Gatov Gallery (Long Beach, 2010), and California State University Long Beach (2009). Her work is in the collection of LACMA (Los Angeles County Museum of Art). Wang is currently an Assistant Professor in Painting at California College of the Arts in San Francisco.
Mieke Marple
(b. 1986, Mountain View, CA) received her B.A. from the University of California, Los Angeles in 2008. She was co-owner of Night Gallery, Los Angeles, from 2011 until 2016, and has been written about by
The New York Times
and
W Magazine,
among other publications. In 2012, Marple produced the web series
Feast of Burden
, directed by filmmaker Eugene Kotlyarenko and distributed by MOCAtv. In 2014, she also co-founded the "Sexy Beast Benefit for Planned Parenthood LA," and remains on the organization's advisory board. Recent exhibitions include
Bad Feminist
at Ever Gold [Projects] (solo, San Francisco, 2019);
[On Approval] Beta Launch
at Ever Gold [Projects] (San Francisco, 2019);
God is an Audiobook
at 1301PE (solo, Los Angeles, 2019);
Gold Standard
at Ever Gold [Projects] (San Francisco, 2019);
The Internet Archive's 2018 Artist In Residence Exhibition
at Ever Gold [Projects] (San Francisco); and
Relocation Tarot
at Ever Gold [Projects] (San Francisco, 2018). Marple lives and works in San Francisco.
[1] Gray, Eden. A Complete Guide to the Tarot. New York: Crown Publishers, Inc., 1970.