Kate Groobey
The Good Life
June 1 – July 1, 2017
Opening Reception: June 3rd, 5-8pm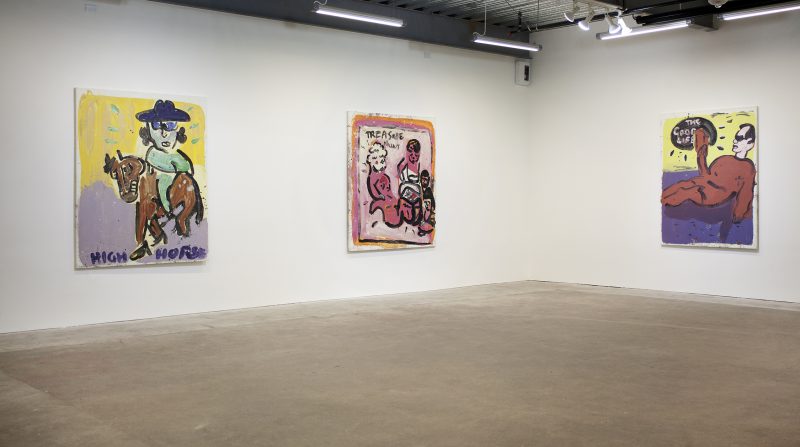 Ever Gold [Projects] is pleased to present The Good Life, an exhibition of new work by UK-based artist Kate Groobey. In a new series of paintings and video performances, Groobey explores the notion of "the good life" through the presentation of a new set of characters and their behaviors.
Her characters are active, busying themselves, trying to live their lives well. They are striving towards goals, reading books, exercising, hunting for treasures, and skinny dipping. They are healthy, wealthy enough, strong, and beautiful and have good relationships with friends, family, and lovers. But as the characters go in search of the good life, their quest is, at times, thwarted by excess, obsession, and anxiety. Groobey's characterizations are humorous and truthful, illustrating our various attempts at self-improvement and ways we might stumble along the way.
Each of Groobey's characters is based on a series of watercolors that portray an intimate moment between herself and a friend, family member, acquaintance, or lover. Each watercolor captures an impactful moment, a phrase, or a distinctive trait. Each becomes, simultaneously, a fleeting insight into Groobey's relationships and reflections, as well as an archetypal character trait, emotion, behavior, or situation that everyone can recognize in themselves and in their own lives or in the people they live and work with.
There is a collapse of art, self, and subject in Groobey's work. She immerses herself in the painting process, placing herself inside the act of painting, standing on the canvas as she paints. This tendency is intensified through her performances as she enters more fully into what she describes as a "moving memory."
In a series of video performances, for which she collaborated with Paris-based musician and artist Jackson and His Computerband, Groobey dresses up as the characters in her paintings. Wearing a painted costume and performing in front of a painted backdrop, she takes the place of her subject and then reenacts the moment or feeling that she captured in her watercolor paintings. Groobey recalls her initial impressions of the encounter with her subject by stepping into their shoes and creating a movement sketch using big painted gestures—the drips and flicks of her brush and the jiggles and squats of her body.
The watercolors that underpin Groobey's current body of work were made on the road. Some of the characters were created in Germany and in Big Sur, California. But it was travelling to the South of France that bore out the notion of the good life. Encountering the bleach white light of the Luberon and the joie de vivre of her French companions, Groobey found herself asking the questions: "What is the good life?", "Am I living it?" and, if not, "What kind of activities might lead to the good life?"
[About Kate Groobey]
Kate Groobey
(b. 1979, Leeds, England) is an artist working in painting, sculpture, performance, and video. She attended the Ruskin School of Drawing and Fine Art at Oxford University, graduating in 2000 with her BFA, and the Royal College of Art in London, graduating in 2010 with an MA in Painting. Recent exhibitions include
Pure Pleasure
at Mizuma Art Gallery, Tokyo (2018);
I'm Made of Milk
at Horton Gallery, New York (2017),
The Good Life
at Ever Gold [Projects], San Francisco (2017);
The Classical
at Transition Gallery, London (2016);
6 Ans
at La Sira, Paris (2016);
Perfect Potatoes
at Redling Fine Art, Los Angeles (2016, solo exhibition);
SURRREAL
at König Galerie, Berlin (2016);
Art16
at Villa Lena Foundation, London;
Glorious Abandon
at Dynamite Projects, Redhill, UK (2016);
Perfect | Parfait
at David Lynch Club Silencio, Paris (2015, solo exhibition);
Summer Mix
at Turps Banana Gallery, London (2015);
Figuratively Speaking
, organized by Marcelle Joseph Projects at Heike Moras, London (2015); and
100 Painters of Tomorrow
at Beers Contemporary, London (2014). Her work has been covered by periodicals including
i-D/Vice
(Germany),
Dapper Dan Magazine
(Greece/United Kingdom),
Articulated Artists
,
New York Arts Magazine
, and
Artlyst
(London). Her work has also been included in the publications
100 Painters of Tomorrow
(2014), and the
Bloomberg New Contemporaries
catalog (2011). Her work is represented in the Johann König collection (Berlin) and the Saatchi collection (London). In June 2018, Groobey became the first woman to receive the Daiwa Foundation Art Prize since it was established in 1988. Groobey lives and works in Paris and London.