Christine Wang
#cryptomemes: women and Leo DiCaprio
May 11 – June 22, 2019
Opening Reception: May 11, 6-9 pm
Ever Gold [Projects] presents #cryptomemes: women and Leo DiCaprio, a solo exhibition of new work by Christine Wang. These paintings are part of an ongoing series by Wang recreating memes about cryptocurrency. Wang's series explores cultural literacy and the way in which the combination of cryptocurrency and painting bring up similar issues of elitism and access.
This new installment to Wang's series is comprised of paintings replicating crypto memes in two categories: those featuring women and those featuring Leonardo DiCaprio. As in most memes, images are overlaid with text; some of the text is understandable to an average viewer while some of it is less approachable. The term "HODL" (to hold, rather than to sell cryptocurrency, originating with a typo on the Bitcoin Forum and eventually becoming a related acronym for "Hold On for Dear Life") appears in a number of the paintings. Cryptocurrency is a subject many people only superficially understand—perhaps the same can be said about painting—to the extent that even people who invest in cryptocurrencies do not necessarily understand the mechanics.
Cryptocurrency jokes are arguably elitist, and in that sense a good fit for the higher cultural form of painting, but the aesthetics are distinctly low brow—the images Wang references are designed for quick, immaterial consumption and do not need to be particularly attractive or well-composed. Wang elevates these images through her replication and makes them more available for close examination through the contextual transformation.
Wang's crypto paintings are both a marker of the current moment and a kind of exercise in reading or failing to read an artwork—creating paintings with this niche interest-based humor is particularly fitting. Artwork, which often intimidates its audience with a mixture of insider information and ambiguous references to theoretical knowledge, is the perfect host for a similarly difficult subject. Wang's crypto paintings unite these two distinct worlds of culture.
Special discounts are available to clients paying with cryptocurrency.
Please contact info@nullevergoldprojects.com with any inquiries.
Christine Wang
(b. 1985, Washington D.C.) is an artist living and working in San Francisco. Wang received her BFA from The Cooper Union for the Advancement of Art and Science in 2008 and her MFA in painting from UCLA in 2013. Wang also attended the Central Academy of Fine Arts, Mural Painting department for two semesters in 2006. Solo and two-person exhibitions include
#cryptomemes: women and Leo DiCaprio
at Ever Gold [Projects] (San Francisco, 2018);
Crypto Rich
at Galerie Nagel Draxler Kabinett (Berlin, 2018);
Relocation Tarot
at Ever Gold [Projects] (San Francisco, 2018);
Actions Speak Louder Than Fonts
at Galerie Nagel and Draxler (Berlin, 2017);
Gaseous Abstraction
with Kelley Lowe at the Hamad Bin Khalifa University Student Center Gallery;
Devotional Art for Your Home
at Night Gallery (Los Angeles, 2016); and
I Want That Bag
at Night Gallery (Los Angeles, 2014). Selected group exhibitions include
[On Approval] Beta Launch
at Ever Gold [Projects] (San Francisco, 2019);
The Privilege Show
at Control Room (Los Angeles, 2013),
Pushing Painting Paradigms
at Rutgers University (New Brunswick, 2012),
Shock and Awe
at Gatov Gallery (Long Beach, 2010), and California State University Long Beach (2009). Her work is in the collection of LACMA (Los Angeles County Museum of Art). Wang is currently an Assistant Professor in Painting at California College of the Arts in San Francisco.
Related public programming: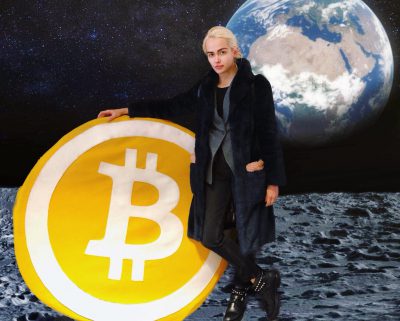 Digital Gold Rush — a talk by Olive Allen, technology entrepreneur and visual artist
June 8, 2-3 pm
In the 19th century when gold deposits were discovered, fortune seekers from all over the world rushed to mine their "fortune." Just like gold, digital currency has fueled wild dreams, grandiose delusions, and next level hustle. Tonight is the night to reveal some insider secrets and share unusual success stories. Viva la Speculatión!
Olive Allen is the Founder and CEO of Decadent Inc, a San Francisco based startup that is creating an entertaining and social platform that enables users to display, buy, and sell digital collectibles and in-game items. She is a visual artist, avid gamer and an early investor in the blockchain space. She purchased her first Bitcoins in 2013 and later found the way to utilize blockchain technology in the consumer market.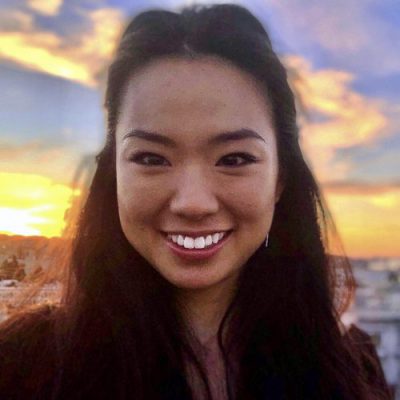 Applied AI at Scale — a talk by Erica Lee, Director of WomenOfAI.org
June 22, 2-3 pm
Erica will discuss how to apply the latest deep learning techniques to solve real-world business problems at scale. She'll provide a high-level, non-technical overviewed of AI to educate the audience on fundamentals, followed by a few case studies highlighting useful business applications. Erica will focus on educating listeners on available AI tools that can scale, and best practices for using AI for industry. Learn more at ericalee.ai.
Erica Lee is the director of Women of AI, a global nonprofit creating women leaders in AI. She is a technology entrepreneur and executive building AI & Deep Learning. Lee started out her career as a self-taught software engineer and launched her first company on Palm Pilot. Lee has founded 2 software startups in automation and AI that have generated sales of more than $1M. Recently, Lee was the Product Lead for AI at Apple, leading many evangelism, R&D, and software projects in AI, ranging from Speech Recognition, NLP, to Image Recognition. Lee worked with teams such as FaceID, Siri, HomePod, iCloud, Retail and more. Lee participates in Hackathons, and has won won Tech Crunch Disrupt and a few others. Lee has spoken about AI at Harvard, TechCrunch, and TechCode in China. Lee is a currently freelance consultant in AI while running WomenOfAI.org.