Guy Overfelt (American, b. 1977) is a nonconformist who is known for his reinvestment in tradition art historical genres with a confluence of popular culture and an abundance of visually compelling and surprising and unexpected forms. Overfelt ceaselessly explores the intersection of allegory and everyday life.

Guy Overfelt was educated at the Maryland Institute College of Art (BFA) and went on to receive his graduate degree from the San Francisco Art Institute (MFA). Overfelt's work has been exhibited at Ever Gold [Projects] (San Francisco); Jack Hanley Gallery (New York); White Columns (New York); Ronald Feldman Fine Arts (New York); Oakland Museum of California; Guangzhou Triennial (China); St. Mary's University (Halifax, Canada); and The Havana Biennial (Cuba). His work is included in the Berkeley Art Museum Collection and the JPMorgan Chase Collection. Overfelt has been the recipient of the Eureka Fellowship from The Fleishhacker Foundation (2014-15), a finalist for the SFMOMA SECA Award (2012 & 1998), Creative Capital (2005), Whitney Biennial (2002), and a recipient of an Artadia Award (2001). His work was featured in the documentary film Burning Rubber that aired on Bravo. Overfelt has been reviewed and featured in numerous publications, including The New York Times, The New Yorker, Index Magazine, Paper Magazine, Time Out Kobe Japan, Time Out New York, The San Francisco Chronicle, Art Net, Art Papers, and Surface Magazine. In 2015-17 Overfelt was included in BLOW UP: Inflatable Contemporary Art, a traveling museum exhibition.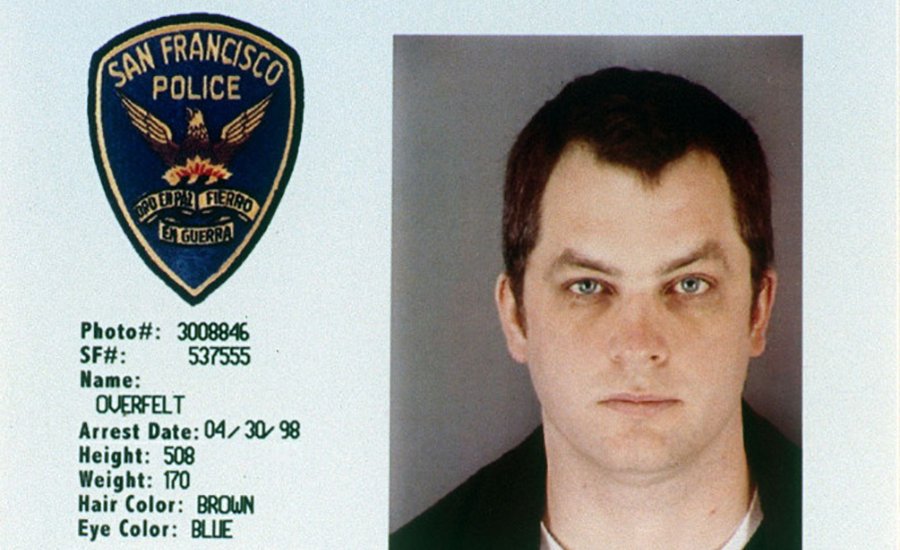 Please inquire for available works: info@nullevergoldprojects.com
Burnout, 1998 – Present
From the project Burnout, a 13 year degenerative process work that address failure of achievement and the dissolution of the American Dream in real time. What started out as a fully functional classic muscle car has dissolved into a deflated wrecked poetic and prophetic carnage of the US car industry and the Phoenix which once brilliant stood upon the hood of this Hollywood icon, The Smokey and The Bandit Pontiac Trans AM.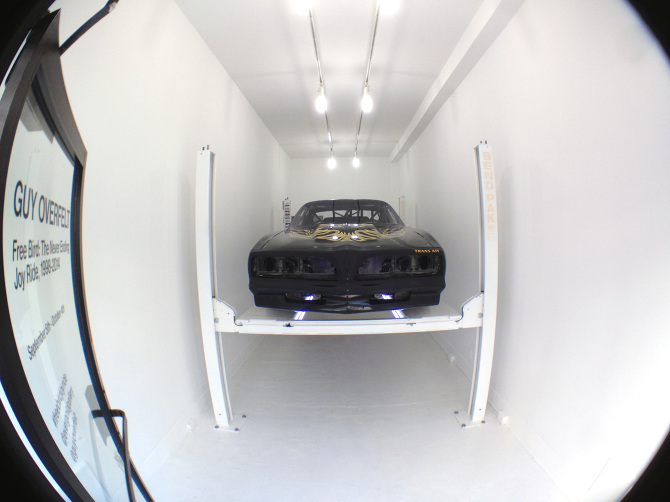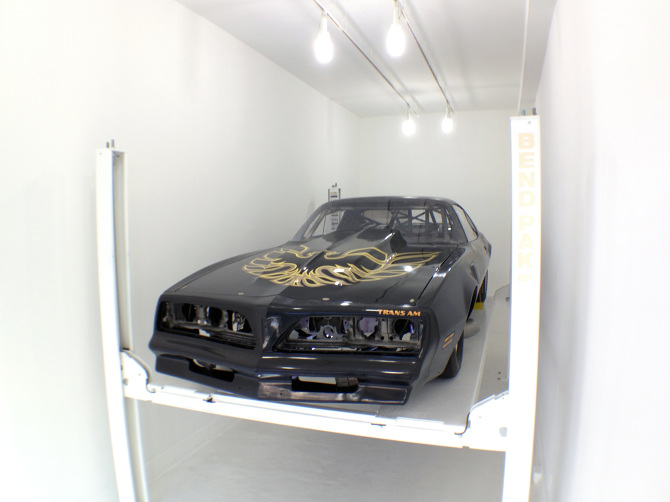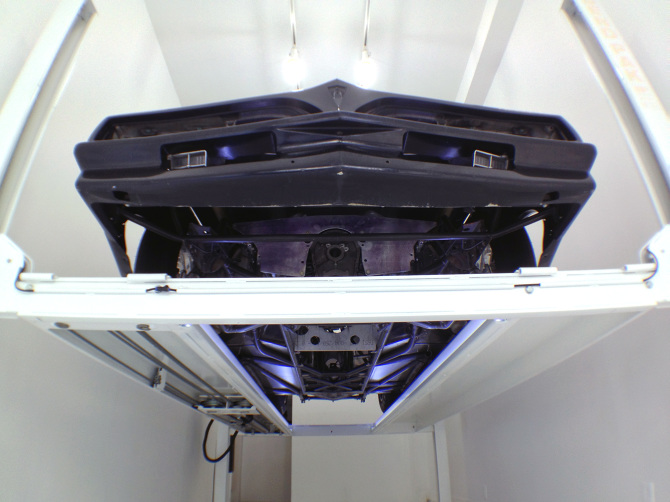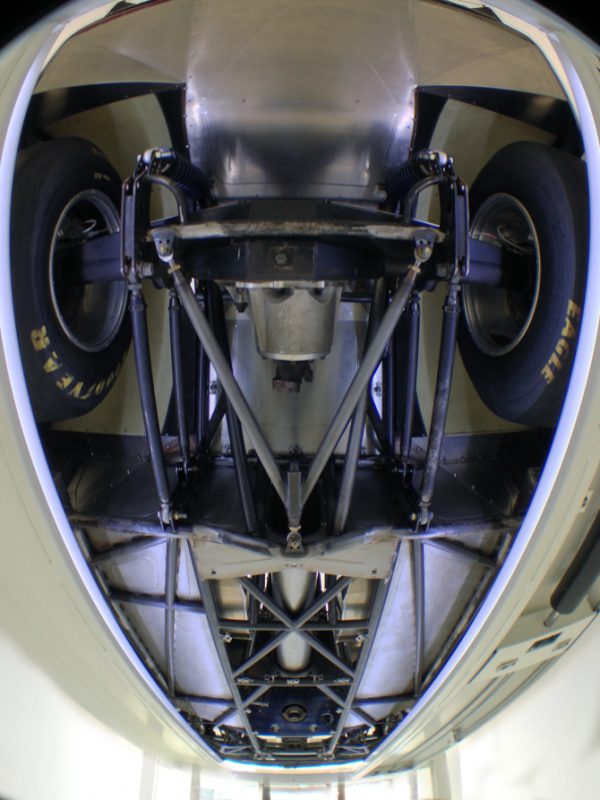 Picasso Bongs, 2015 – Present 
It was when I got into the art world, while working as a preparator in an Upper West Side gallery in New York, that kind of sparked the idea for the Picasso Bong series. A throw back to when my friends and I use to make different bongs and bowls out of anything we could find. A gravity bong from a milk jug in the kitchen sink, or a bowl made of plumbing parts from the hardware store. The more inventive, the better.
At the time, I was holding a Picasso vase thinking, "What is this, a gravy boat? This could be a killer bong." While in the creative moment, the head preparator caught me test diving. I was fired on the spot—mostly for handling the raw terracotta vase with bare hands. And probably because I was going "Hey check this out! Wouldn't this make a sick bong…"
For years, the idea of a Picasso Bong stuck with me. And It turns out getting a properly made Picasso wasn't as easy as you'd think. Federal counterfeiting and forgery laws tripped out a lot of potential collaborators. It took a few years but I finally ended up going to China where they are known for high quality Ming Dynasty level ceramics and not so concerned about art forgery laws. As well as Mexico for the terracotta edition.
To get dimensions and details right, I snagged high-res images of Picasso vases from high-end auction houses, extrapolated their measurements and then used those to create blueprints. The production process was a little shadowland, but they turned out a near perfect, fully functional Picasso bong that'll impress your friends and family with your Blue Chip Art collection
Guy Overfelt
Sujet Poisson Bong (After Picasso)
2017
Partially glazed red earthenware clay bong with decoration in engobes (black, white). Hand blown glass bowl and stem.
Stamped and marked "Edition Picasso Bong / Madoura Plein Feu / Edition Picasso" (underneath).
5.5" h x 8.5" d x 3.75" w
Edition of 50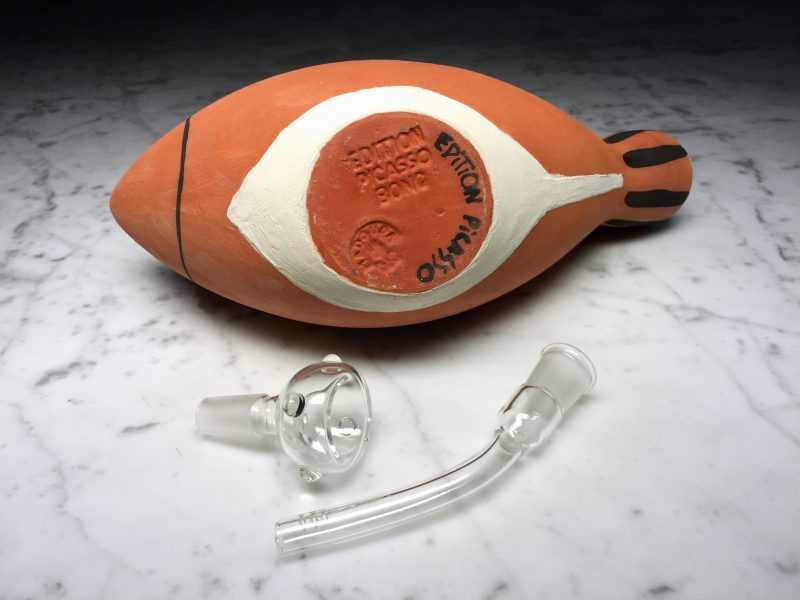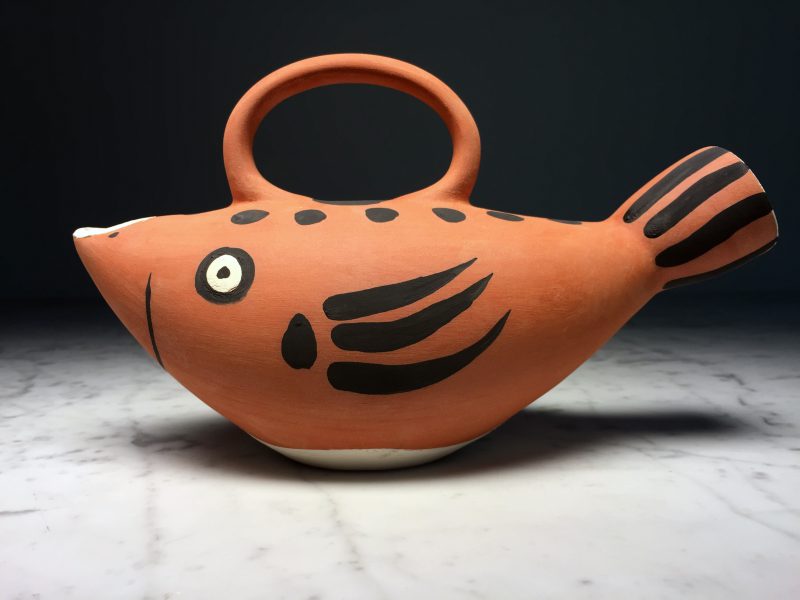 Exhibitions with Ever Gold [Projects]: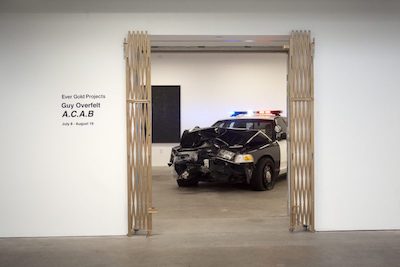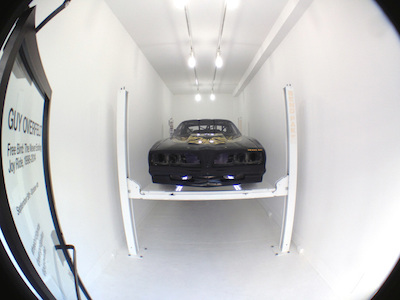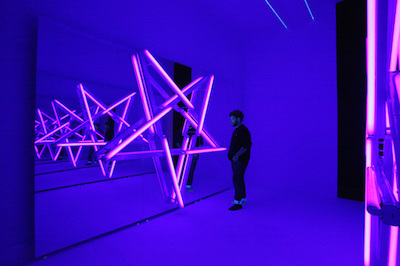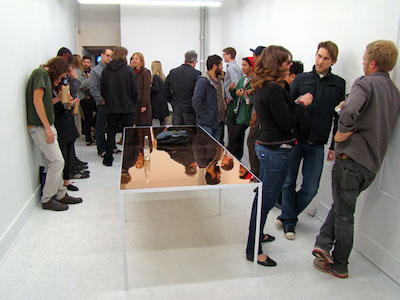 Guy Overfelt
Ever Wash
April 7–29, 2011
GUY OVERFELT
Born 1977, Baltimore, MI
Lives and works in San Francisco, CA
Education
1996
MFA, San Francisco Art Institute (San Francisco, CA)
1994
BFA, Maryland Institute College of Art (Baltimore, MD)


Solo Exhibitions
2018
MAGA at ARTMRKT with Ever Gold [Projects] (San Francisco, CA)
2017
A.C.A.B., 1995 – 2017 at Ever Gold [Projects] (San Francisco, CA)
2014
#FreeBirdJoyRide at Ever Gold Gallery (San Francisco, CA)
2012
Ever Wash at Ever Gold Gallery (San Francisco, CA)
Smokeout, an outdoor installation at Outside Lands Festival (San Francisco, CA)
Two Person Exhibitions
2012
Assed Out and the Mini Dramas, with Andrew McClintock at Queens Nails Projects (San Francisco, CA)
Selected Group Exhibitions
2019
Gold Standard: Ten Year Anniversary Exhibition at Ever Gold [Projects] (San Francisco, CA)
2018
Way Bay 2 at Berkeley Art Museum and Pacific Film Archive (Berkeley, CA)
Blow UP: Inflatable Contemporary Art at Hickory Museum of Art (Hickory, NC)
Pot Shop at Ed. Varie (New York, NY)
2017
Very Appropriate at Robert Berman Gallery (Los Angeles, CA)
Pot Shop at Ed. Varie (Los Angeles, CA)
10 MINUTE MASSAGE $20 with Ever Gold [Projects] at Art Market San Francisco (San Francisco, CA)
Blow UP: Inflatable Contemporary Art at Elmhurst Art Museum (Elmhurst, IL)
Blow UP: Inflatable Contemporary Art at Muskegon Museum of Art (Muskegon, MI)
Blow UP: Inflatable Contemporary Art at Loveland Museum (Loveland, CO)
2016
Above Accents Across with ARTADIA at the Minnesota Street Project (San Francisco, CA)
Blow UP: Inflatable Contemporary Art at Huntsville Museum of Art (Huntsville, AL)
Blow UP: Inflatable Contemporary Art at Schneider Museum of Art (Ashland, OR)
Blow UP: Inflatable Contemporary Art at William Benton Museum of Art at UCONN (Storrs, CT)
2015
Highlights From Past SFAQ [Projects] at SFAQ [Project] Space (San Francisco, CA)
Art at the Battery at The Battery (San Francisco, CA)
Blow UP: Inflatable Contemporary Art at Vision Gallery (Chandler, AZ)
Blow UP: Inflatable Contemporary Art at Bedford Gallery (Walnut Creek, CA)
2014
Storage Wars at The Hole and Eric Firestone Gallery (New York, NY)
Group Show at Ever Gold Gallery (San Francisco, CA)
2013
Seventh­-Inning Stretch at Eric Firestone Gallery (New York, NY)
Mid­-Winter Burning Sun: Gutai Historical Survey and Contemporary Response at San Francisco Art Institute's Walter and McBean Galleries (San Francisco, CA)
2012
Invisible Relic at Park Life Gallery (San Francisco, CA)
I AM CRIME at SOMArts (San Francisco, CA)
Parts and Service at Eric Firestone Gallery (New York, NY)
Group Show at Fouladi Projects (San Francisco, CA)
Summer Group Show at Ever Gold Gallery (San Francisco, CA)
Residencies and Awards
2014
Fleishhacker Foundation Eureka Fellowship (San Francisco, CA)
2012
SECA Art Award (nomination list), San Francisco Museum of Modern Art (San Francisco, CA)
2005
Finalist, Creative Capital Foundation Project Grant (New York, NY)
2002
Whitney Biennial (nomination list) (New York, NY)
2001
Artadia Grant (New York, NY)
1999
ArtPace (nomination list) (San Antonio, Texas)
1998
SECA Art Award (nomination list), San Francisco Museum of Modern Art (San Francisco, CA)
1996
Chauncy McKeever Award (San Francisco, CA)