Chuck Webster
SMORGASBORD
May 5 – June 12
Visit the online viewing room here
Curated by Darren Romanelli
Plants provided by Austin McManus of Public Land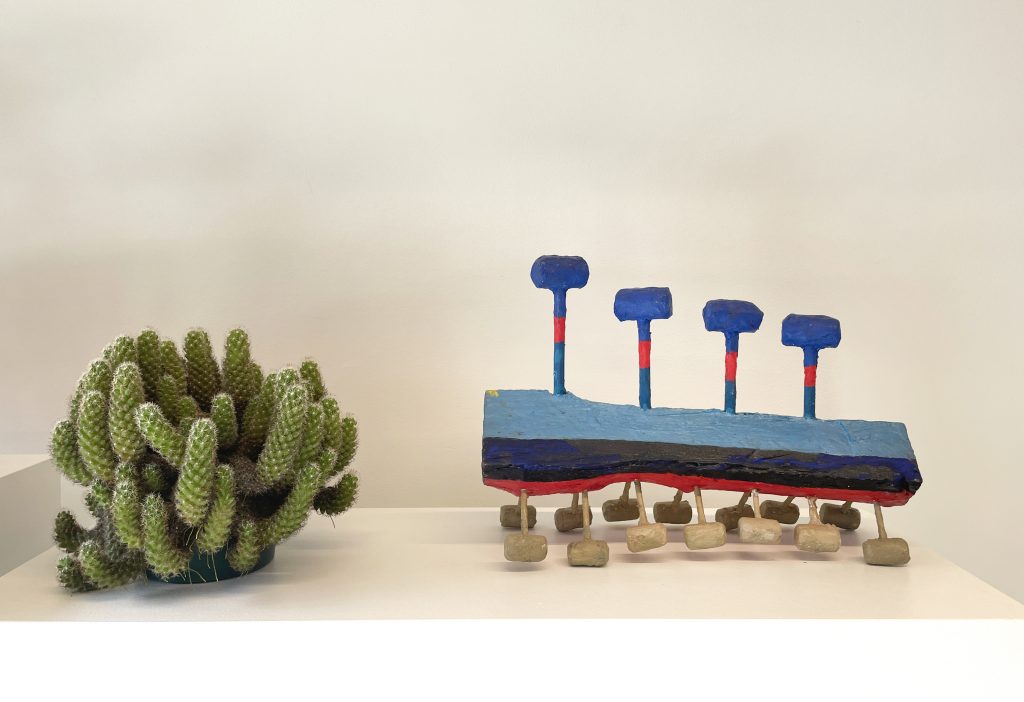 Text by Duke Benadom
I'm a bit put off while writing this as I realize that health issues will prevent me from seeing the very art that's now in my thoughts. The heart-lifting afterthought is that many others will enjoy it in my stead.
Art, as with all realms of beauty, is mostly in the eye of the beholder. Some people look upon a desert with disgust, seeing nothing but vast barrenness, while those more attuned to life look further and see flora, fauna, minerals, and a nimiety of richness in every nook and cranny. It's there for all to admire and enjoy. Perhaps those who do not recognize that beauty is ubiquitous simply need a bit of guidance. As an example, California's Death Valley has beauty comparable with that of Wyoming's Yellowstone. It's certainly not the same beauty, or even beauty of the same nature, but it's absolute beauty nevertheless.
For his first solo exhibition at Ever Gold [Projects], Chuck Webster presents two large grids of works from a series of grayscale Ink paintings on antique handmade paper and a selection of wood and mixed-media based sculptures. These works are placed in direct conversation with a curated selection of rare cacti such as Astrophytum capricorne, Opuntia chaffeyi, Echinofossulocactus erectocentrus,and Miqueliopuntia miquelli. When an exhibition is replete with paintings, sculptures, and succulent plants, some will wonder why such an array of differences would be displayed together, while the inquisitive mind may strive to see the relevance in these various forms of wonderment and view the display with a much more enthusiastic interest.
That's the real beauty. Each viewer will admire at least some of the cacti, or perhaps abhor the lot. Similar reactions may be shown toward the paintings and/or sculptures. Those with sufficient interest or curiosity will look at all displayed and draw comparisons of form, texture, color, beauty, interest, and a gamut of other characteristics.
The cacti in the exhibition each have their own natural beauty of form and texture. Even two plants grown from the same seed batch will show differences over time. Paintings that emanate from visions of one's mind will vary even more. The same can be realized from sculptures… with the added benefit of three dimensions. Try viewing a painting from the back side; it's obviously not comparable to viewing the sculptures or plants from other directions. One should peer at these forms of art from various perspectives. It's worth the effort.
Chuck Webster (b. 1970) works in painting, drawing, collage, and printmaking to make pieces that, while largely abstract, often incorporate vaguely recognizable images of plants, architecture, and humans. In 2012, New York Times art critic Roberta Smith referred to his canvases as "little big paintings," noting that "they have a strange, irrepressible scale, a largeness that exceeds their size and creates a distinctive, slightly comedic sense of intimacy." Born in Binghamton, New York, today Webster lives and works in Brooklyn. His work is held in many major collections, among them the Whitney Museum of American Art, the Metropolitan Museum of Art, the Baltimore Museum of Art, and the Museum of Fine Arts, Houston. Webster has been a recipient of many honors, including the Milton and Sally Michel Avery Visual Arts Fellowship at Yaddo and a MacDowell Colony Fellowship. Webster was also the 2018 National Academy Affiliated Fellow at the American Academy in Rome.
__________
About Darren Romanelli:
Darren Romanelli is a Los Angeles-based creative multi-hyphenate and founder of the award-winning agency EPIDEMIC. Over the last twenty years, Romanelli has been instrumental in bridging the gap between art, culture, and commerce in ways that have revolutionized the way artists and brands collaborate to create moments that inspire and create an impact on a global scale. Unique in his positioning at these intersections of culture, Romanelli has expertly navigated collaborations between Fortune 100 companies and museum-level artists in ways that have amplified each project leaving the whole much greater than the sum of its parts.
About Duke Benadom:
Duke was a former Director for the Cactus & Succulent Society of America (CSSA, served as the CSSA's Show Chairman for more than a decade, and as Convention Chairman for six conventions. He served as Vice President and then President for a total of almost ten years, and as Editor of the Cactus & Succulent Journal (CSJ) for just over a year. He was the author of the long running CSJ column, Superb Succulents, since its inception. He enjoys flora and fauna, traveling, exploring, photography, writing, editing, publishing, and sharing these experiences with others of similar interests. His work may be viewed at www.SuperbSucculents.com
About Public Land:
Established in 2018, Public Land is a retail and gallery space located in Sacramento, California. who offers an eclectic assortment of unusual cacti, succulents and tropical house plants along with goods, collectables and original art from a wide range of artists who use various mediums to explore and re-imagine the ways humans experience, interact and perceive their natural environment.  www.publiclandstore.com